Nkabom World Music and Culture Festival - International Trip Details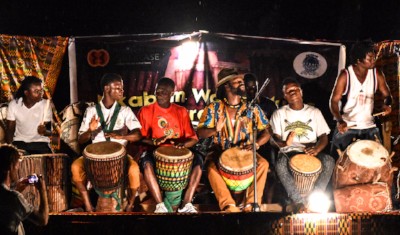 Join us for the 2nd annual Nkabom World Music and Culture Festival on August 4-5, 2018 in Okurase, Ghana. Explore music from around the world with fellow artists and all that appreciate music.
Nkabom means "unity" in the Twi language of West Africa. The Festival will bring together musicians and performance artists from many diverse backgrounds and musical genres, creating opportunities for never-before-heard conglomerations of rhythm, melody and production in an environment that has a timeless tradition of supporting and fostering arts and cultural traditions.

Registering for this trip provides for your in-country travel from/to the airport in Accra from your accommodations (arriving at Accra, Ghana Kotoka Airport on August 2, 2018 and departing Accra, Ghana Kotoka Airport on August 7, 2018) , accommodations while in Okurase and one night at Asaasi Yaa Beach Resort, water and food during your time with us, and some cultural activities. There is no entrance fee for the Festival. Please see the itinerary link below for additional details about the trip schedule, events and covered expenses. Please contact us if you have any questions.

If you would like to register, you can click on the "Register Now" button. Be aware that you will need an electronic photo of your passport and payment information.