For Junior and Senior High Schools, Colleges, Universities, as well as community organizations and churches, our Director of Immersion Partnerships is ready to help you create an enriching, personal experience for your group.
It's the community driven nature of our work and the personal relationships that you will experience that sets our projects apart. You will stay in the rural village Okurase, Ghana and work with the local community. You will learn about their life challenges and help them work on some of them. You will learn about their customs, history, language and arts and you will share yours. They will dance, drum and work their way into your hearts. It's the partnership between your group and the people of Okurase that provides a brighter future for all involved. We have had groups visit from Ohio, Texas, Charleston, Saudi Arabia, England, California, Minnesota and others. We'd like you to be next!
Meet The Miami Valley School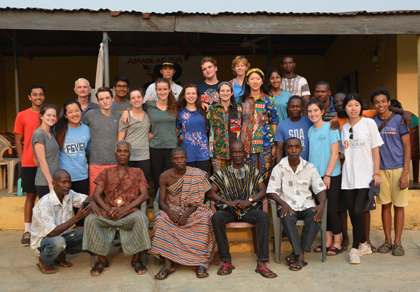 The Miami Valley School returned to Okurase January of 2017 to begin the Nkabom Centre Organic Garden. Project OKURASE and the people of Okurase have been fortunate to have the support of The Miami Valley School that has not only helped with several village-based projects over the last few years but also helped to raise funds for Francis Yevuga, a young boy from Okurase that is losing his vision. During the trip in January 2017, the team of teachers and students helped establish an organic garden at the Nkabom Centre. The Nkabom Centre is the community centre envisioned by the people of Okurase. The Nkabom Centre Organic Garden will serve as a source of nutrition for school children and a teaching resource for the people of Okurase.
Click here to learn about what other groups have done.
Available Group Projects
Review the projects that are available then fill out the form below and let us work with you to create a personal experience for your group.
Extend the Safe Water System to a Sub-Community

Participate in the Annual Village Health Outreach

Build an Organic Garden at a Local School and Teach Them How to Maintain It

Help Establish Economic Self-Help Groups and Guide Small Businesses

Help Build the Security Hut at the Nkabom Centre

Expand the Playground at the Nkabom Centre

Teach Science and Geography to Primary and Middle School Children
If you have a group that is interested in helping us, please fill out and submit the form below.