Volunteers are integral to our organization. We love our volunteers from around the world!
Everyone brings a unique set of skills. We need volunteers who can come to Okurase and work on our programs as well as volunteers who can help us from where they are with marketing, technology, fundraising and many other activities that keep us busy everyday.
Meet Two Volunteers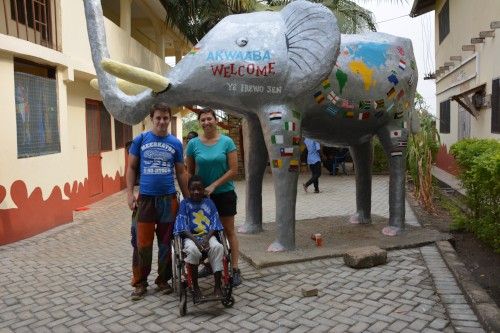 David and Tanya Lindsay with Kingsford
We are so glad that David and Tanya Lindsay found Project OKURASE and came to volunteer in Okurase. They helped in so many ways with music, technology, education and the children. The people of Okurase, especially the children, will talk about you forever and one boy in particular, Kingsford, (and his family) has a very changed life and life trajectory.  You are incredibly special people and we can't thank you enough for your time in Okurase.
Click here to learn about what other volunteers have done.
Some Ways to Volunteer
Help with Construction at the Nkabom Centre - Location: Okurase, Ghana

Conduct Reading Lessons in the Okurase Library - Location: Okurase, Ghana

Mentor Teachers from the Local Schools - Location: Okurase, Ghana

Teach Computer/Networking Skills - Location: Okurase, Ghana

Help with Marketing Activities - Location: Anywhere

Be an Administrative Assistant - Location: Anywhere

Help with a Fundraiser - Location: Anywhere

Work on Our Social Media Plan - Location: Anywhere

Special Events Community Outreach - Location: Anywhere
If you are interested in volunteering, please fill out and submit the form below.