Working in close partnership with the District Health Directorate, Acts in Afrika, the Adeiso Health Clinic and Ghanaian and International Health professionals, we have held a Village Health Outreach (VHO) every July since 2009.
---
Village Health Outreach (VHO) Dates
The 2019 VHO will take place at Nkabom Centre in the village of Okurase in Ghana, West Africa from July 28 - August 1, 2019. We need both medical and non-medical volunteers. Please contact us if you are interested in helping!
Traveling From Outside Of Ghana For VHO
If you are traveling to the VHO from outside of Ghana, join us for a 15 day trip (July 21 - August 4, 2019 (13 days in country)) including volunteering at the VHO, food, water, and accommodations at Nkabom House while in Okurase, and a stay at Asaasi Yaa Beach Resort.
Details and to Register for the International VHO Trip
---
The Concern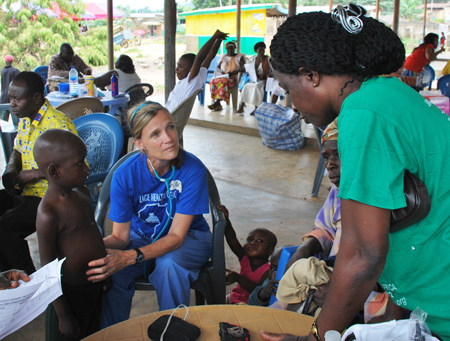 Health and nutrition go hand in hand and are major concerns in Okurase. Okurase is a village of subsistence farming. Many children and adults are malnourished. Low nutrition sets the stage for many disease processes or low capacity to fight disease, especially in young children. These areas of concern are worsened by the fact that Okurase is in a high malaria zone and a large percentage of the village residents have to manage multiple infections of malaria each year. Limited health care causes many people to die from small sicknesses that can rapidly escalate. In addition, their way of life puts them at risk for wounds and undiagnosed afflictions that can make life extremely difficult.
The Village Health Outreach Program
After meeting with the village leadership and under their direction, it was decided Project OKURASE would facilitate an annual health outreach.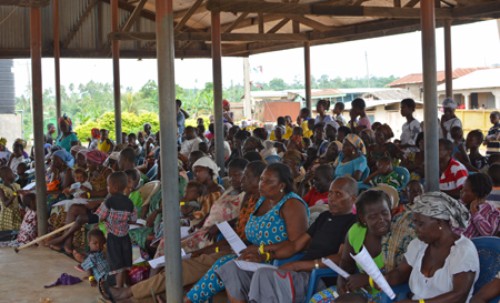 The outreach is 5 days of intensive free quality health services. The VHO has been a true international collaborative effort that has saved many lives. Patients come from Okurase and many surrounding villages. The number of patients has steadily grown over the years. We have seen as many as 1700 patients during the week long VHO.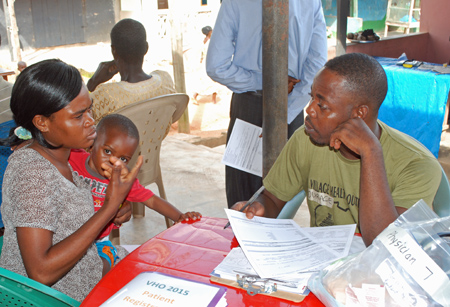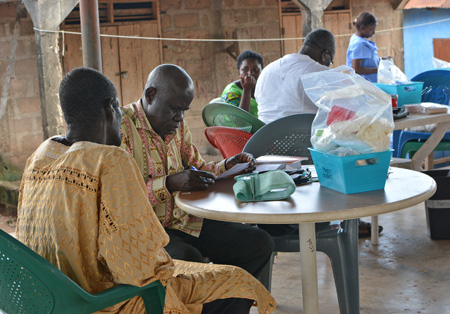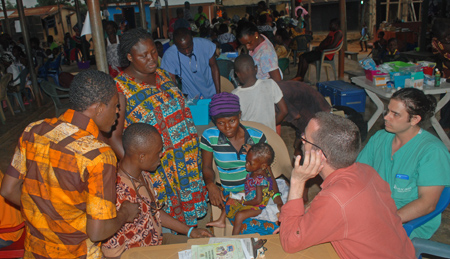 Services include:
Intake
Vitals Check and Triage
Examination and Treatment by a Consultant
Testing
Wound Care
Vision station for reading glasses
Pharmacy Services providing certain free medicines as needed 
Check out 
Follow-up Care
Emergency Transport to Hospital if needed
We see patients with malaria, respiratory problems, skin issues, hypertension, waist pain, eye and ear infections, wounds, gastrointestinal complaints and other tropical diseases. We try each year to enroll more people in the Ghana Health Insurance Scheme. 
Here's a short video of Infanta Malaria Prevention Foundation at the 2012 Okurase Village Health Outreach.
Benefits
The VHO is highly valued by the community. Many people bring their patient arm bracelet from the year before to show they are a return patient. For many, this will be the only medical visit they will have for the year. Since the onset of the VHO, over 10,000 patients have benefitted.
Way Forward
To date we have not had the funds to provide dental care and have a goal to try to include dentistry.
How You Can Help
There are many ways you can help support the Village Health Outreach Program:
donate medical supplies
help us find donors for medical supplies
join us and participate in the VHO - both medical and non-medical personnel are needed
support the travel of another person who would like to come but is unable to do so financially
donate funds toward medicine
donate funds toward the event
Click here to Register Now for this year's VHO Program in July - both medical and non-medical personnel are needed