Working in close partnership with the Upper West Akyem District Health Directorate, the Adeiso Health Clinic and Ghanaian and International Health professionals, we have held a Village Health Outreach (VHO) every July since 2008. Typically the VHO has been an intensive free medical clinic and pharmacy that serves over 1000 patients in the week it occurs. Occasionally the VHO will focus on prevention and health infrastructure. 
---
Village Health Outreach (VHO) Dates
The 2020 VHO will take place at Nkabom Centre in the village of Okurase in Ghana, West Africa from July 6 – 17. This year the VHO will focus on prevention and environmental cleanliness. We will hold 3 intensive days of tree planting and 3 intensive days of providing health information related to disease prevention, women and girls health, the role of waste management in health, and nutrition. In addition, we will conduct "pop up" reading sessions to nurture our children's cognitive development. We are calling mostly nonmedical volunteers and families to be involved. Medical professionals are welcome. Children are welcome. Please contact us if you are interested in helping!
Traveling From Outside Of Ghana For VHO
If you are traveling to the VHO from outside of Ghana, join us for a 12-day trip (July 6 – 17, 2020 (11 days in country) including visits to Assin Manso, Elmina Castle, Aburi Botanical Garden, volunteering at the VHO, food, safe water, in-country transportation, accommodations at Nkabom House while in Okurase, at Asaasi Yaa at the Beach, and one night in Cape Coast.
Details and to Register for the International VHO Trip
---
The Concern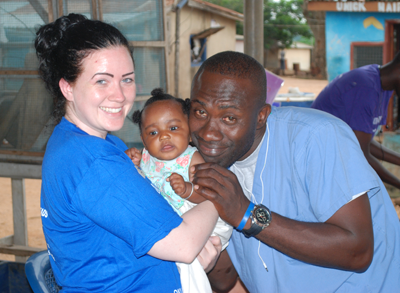 Health and nutrition go hand in hand and are major concerns in Okurase. Okurase is a village of subsistence farming. Many children and adults are malnourished. Low nutrition sets the stage for many disease processes or low capacity to fight disease, especially in young children. These areas of concern are worsened by the fact that Okurase is in a high malaria zone and a large percentage of the village residents have to manage multiple infections of malaria each year. Limited health care causes many people to die from small sicknesses that can rapidly escalate. In addition, their way of life puts them at risk for wounds and undiagnosed afflictions that can make life extremely difficult.
The Village Health Outreach Program
After meeting with the village leadership and under their direction, it was decided Project OKURASE would facilitate an annual health outreach.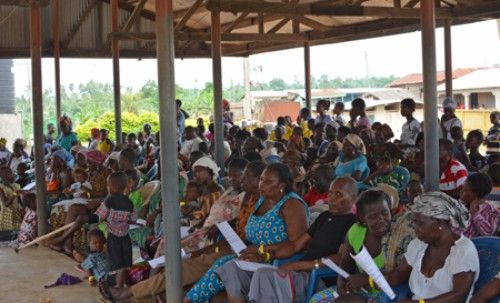 The outreach for 2020 is 3 days of intensive health information and training and 3 days of intensive tree planning. From the beginning, 12 years ago, the VHO has been a true international collaborative effort that has saved many lives. Patients come from Okurase and many surrounding villages. The number of patients has steadily grown over the years. We have seen as many as 1700 patients during the week long VHO. This year our focus will be on prevention rather than to operate a medical clinic.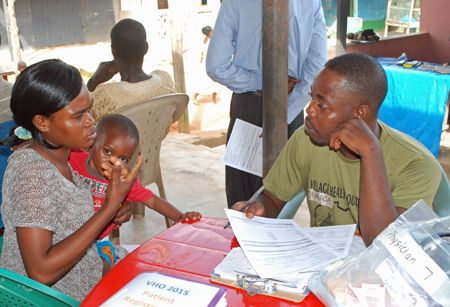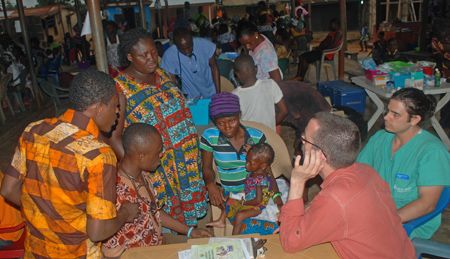 Prevention services will focus on 4 areas:    
ENVIRONMENTAL CLEANLINESS: The community has few resources for managing waste; As well as, Ghana has one of the highest deforestation rates in Africa. Deforestation affects air quality, weather, water sources, and food supplies. Tree planting and use of organic methods in growing food have been identified as important methods to combat climate change.
WOMEN AND GIRL'S HEALTH:  Women's health care is sometimes challenging in rural Ghana due to low resources and lack of information. 
FOOD AND PERSONAL SAFETY FROM DISEASE PROCESSES: Prevention of disease processes need emphasis. 
READING AND DEVELOPMENT:  Many children do not have opportunities to participate in reading activities to increase knowledge and cognitive development.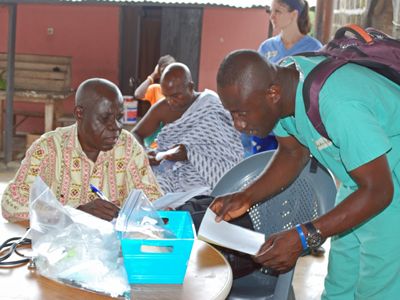 Benefits
The VHO is highly valued by Okurase and nearby communities. Since the onset of the VHO, over 10,000 patients have benefitted.
Way Forward
To date we have not had the resources needed to provide dental care and have a goal to try to include dentistry.
How You Can Help
There are many ways you can help support the Village Health Outreach Program this year:
donate children's books
donate funds for trees
join us and participate in the VHO - both medical and non-medical personnel are needed
support the travel of another person who would like to come but is unable to do so financially
donate funds toward the event
Click here to Register Now for this year's VHO Program.