Join us July of 2017 in the Village of Okurase, Ghana in West Africa for the Nkabom World Music Festival. Explore music from around the world with fellow artists and all those that appreciate music. The Festival is a way for musicians and performance artists to expand their outlook in an environment that has a timeless tradition of supporting and fostering arts and cultural traditions.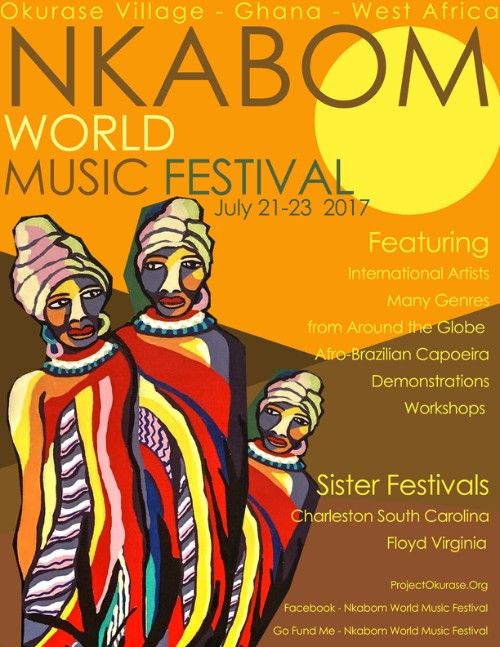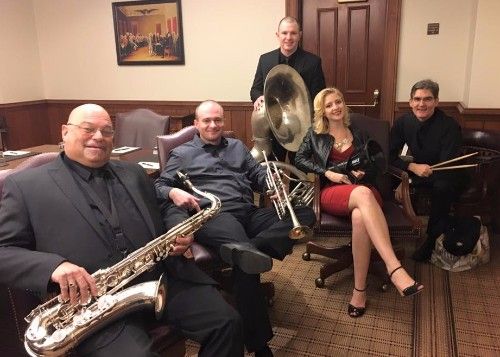 This summer marks the first Nkabom World Music Festival in Okurase Village. This festival is a way to create connections between many cultures through music and performance art.  It is an opportunity to raise regional and international support for Project Okurase and the Music Resource Center.  Artists from throughout Ghana and even a New Orleans themed jazz band "504 Supreme" of Virginia in the USA, have committed to be part of the lineup (They have created a crowdfunding campaign to fund their travel to the village).  The Festival will be an opportunity every year for artists of all backgrounds and genres to come together in a welcoming and safe place to share their love of music, culture and community.  In addition to live band and ensemble performances, there will be instrument workshops, edu-concerts for children, dance classes, recording spaces, audio and video documentation, and countless opportunities for collaboration between different artists from many diverse traditions.  
Nkabom means "unity" in the Twi language of West Africa. The festival will bring together artists from many diverse backgrounds and musical genres, creating opportunities for never-before-heard conglomerations of rhythm, melody and production. The various artists will perform sets on the main stage throughout the three days, as well as host musical and cultural workshops and clinics. The festival will be held the weekend of July 21-23, 2017 at the Nkabom Centre in the village of Okurase, Ghana, Upper West Akyem District of the Eastern Region of West Africa. Okurase Village is approximately a two hour drive from the capital, Accra, and a two hour drive to beautiful beaches. Artists will arrive 2 or 3 days before the festival, and are welcome to stay in Ghana for sightseeing and cultural enrichment opportunities around the country for the duration of their stay. 
---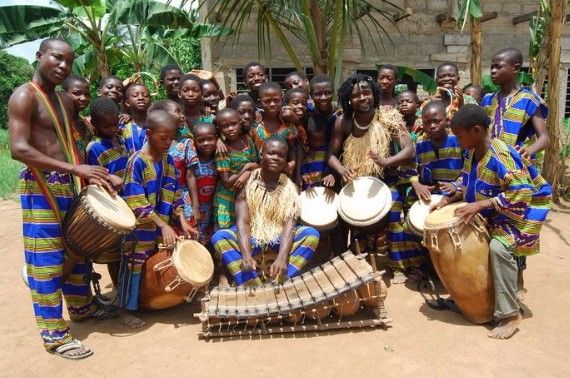 The Nkabom World Music Festival is a component of Project OKURASE, an NGO in Okurase and a 501c3 in Charleston, South Carolina, USA. The festival has the blessing and support of Okurase Chief Barima Twum Ampofo IV, and Okurase Chief of Development and Master Drummer, Samuel "Powerful" Yeboah. The Nkabom Cultural Dance Troupe will be participating in the Festival.
We Need Your Support
The Nkabom World Music Festival is a program of Project OKURASE and therefore any donations to assist with it's success are tax-deductible.  All who are involved with the creation and management of the festival are volunteering their time, skills and experience. It is necessary for us to raise funds to cover the cost of stage logistics (equipment, power supply, infrastructure), lodging, food and transportation and honest compensation for artists.  Any additional funds will be used for educational and playable equipment for the Music Resource Center.  We have created the following incentives for those who wish to donate and be a part of this unique opportunity.  We believe that the Nkabom World Music Festival and Music Resource Center will engage and inspire individuals and communities for generations to come.  
Your Donation of : 
$100 or more - gets you an Nkabom World Music Festival Poster signed by Master Drummers Samuel "Powerful" Yeboah and Francis Yevuga.  
$500 - gets you either a large, one of a kind, hand woven Ghanian Basket or a child's size, professional "djembe" style drum, hand carved in the village
$750 - gets you a medium sized, professional "djembe" style drum, hand carved in the village
$1000 - gets you a large sized, professional "djembe"style drum, hand carved in the village 
Any amount of contribution will receive both a thank you and acknowledgement on our website and upcoming documentary of the event. All donations are eligible to receive an official letter for tax purposes.  
Individuals or businesses donating $500 or more may have their corporate logo on future Nkabom World Music Festival Posters and on the Nkabom World Music Festival section of the Project OKURASE Website.  
Thank you for your support and interest. Click here to donate.
For more information in the USA please contact:  
Daniel Scruggs at - nowflyfree@yahoo.com or (843) 718-5455 
For information in Africa or the UK, please contact:
Samuel Yeboah at - powerfuldrums@yahoo.co.uk
Sign Up for the Nkabom World Music Festival
If you are traveling to the Nkabom World Music Festival from outside of Ghana and would like us to arrange your transportation to and from the airport, accommodations and food during your stay, please click here for more details.... Nkabom World Music Festival Details