An Internet Cafe has been established in the Okurase Electronic Classroom by the road near the Okurase Marketplace. 
The Concern
Lack of exposure to computers and internet has left Okurase students behind. Also, adults have not had the resource of computers and internet to help them with daily life and their businesses and to understand what's happening in the world.
The Internet Cafe Program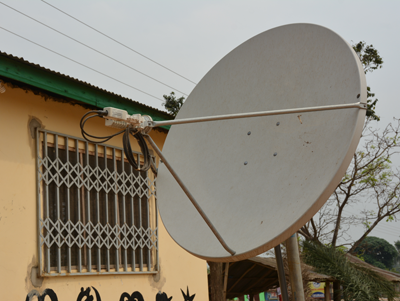 In July 2016, internet services were established in Okurase in our electronic classroom. The primary purpose was for use by the schools. The schools in the local area have used the internet on a regular basis for school projects and research. The internet café has now been established in the electronic classroom and computers and internet are available for a fee when they are not being used by the schools. The funds help offset the cost of maintenance in the electronic classroom and to pay someone to run it.
Benefits
The immediate benefits of the internet and computers in the electronic classroom are for students to have a resource for projects and exams (some exams have to be taken on computer and our students had no computers or internet in the past). To the community and passers by, the benefits of the internet café are to put users in touch with the global market and happenings in the world. The internet is also important these days to communication. Finally, the internet café is another economic benefit to the community. When people on the road stop by to use the internet, they also will frequent local businesses.
Way Forward
We look to continue to operate the internet café. Satellite internet is quite expensive so we hope at some point to make enough money to sustain the service on its own.
How You Can Help
You can help by donating to cover the cost of monthly internet. That cost is just approximately US$1000 per month.