Kingsford is a 15 year old boy who lives in Okurase with his mother, stepfather and two younger sisters. His parents brought him to the Project OKURASE Village Health Outreach in 2016 because he had lost the ability to walk. 
Meeting Kingsford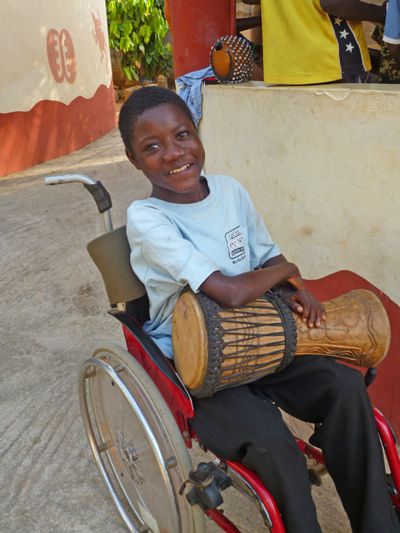 Project OKURASE had Kingsford evaluated in Accra (the capital city of Ghana). He was diagnosed with Duchenne Muscular Dystrophy. Unfortunately this condition is degenerative and will continue to get worse. Kingsford was also malnourished which reduced his life expectancy even further. With the inability to walk, the weakness from his disease/malnourishment and the fact that he was worried his condition was due to evil spirits, Kingsford was very depressed. He did not smile, barely spoke and just stayed in the corner watching.
Mr. Daniel Scruggs, who was in Okurase during the Village Health Outreach and working with the music programs in Okurase, bought Kingsford a wheel chair. Samuel Yeboah gave Kingsford a drum as a way to strength his arms and hands. Kingsford started spending time at the Nkabom House drumming and being around the Nkabom Cultural Dance Troupe. Kingsford was feeling a little better. 
A Chance for Kingsford
David and Tanya Lindsay began volunteering in Okurase in early December 2015. They noticed Kingsford and learned his story. They began working with Kingsford and their relationship with him changed everyone's life for the better. Under the care of David and Tanya, Kingsford blossomed. They were able to provide guidance with medication, insurance, love, therapy and encouragement. Kingsford began to come out of his depression. He would smile, talk, high 5 those who asked and drum with the children around Nkabom House.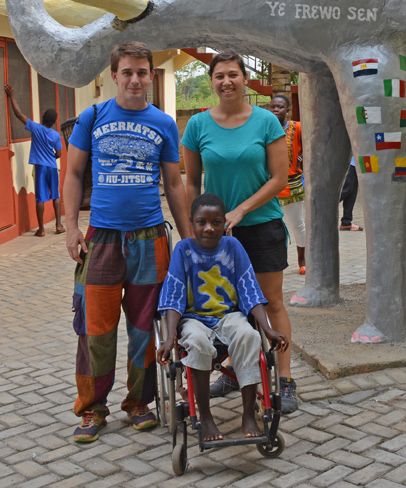 Project Okurase has been able to temporarily assist Kingsford with food bought to his family; however, we do not have the funds to indefinitely support individual families in Okurase. With our limited resources we strive to provide programs that are available to all families. David and Tanya have worked with Kingsford's family to identify a plan to help them support themselves.
The family is caring and hardworking but they are all malnourished and struggling. If Kingsford were not ill, he could help his stepdad farm, earn money and help his mother look after the children. Making a living in a low income country is hard enough; having to also take care of a disabled child makes it nearly impossible. The stepfather has a plan to get them out of their poverty but needs some initial capital. At the age of 60, he is also wanting to make sure he leaves something behind for his children and wife.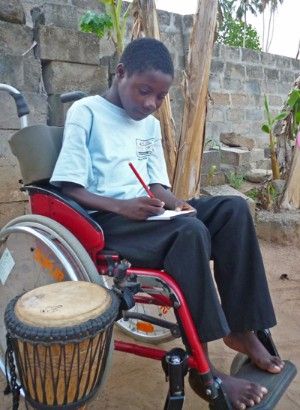 They are currently living on someone else's land and can be evicted at any time. This would leave a full family homeless and with Kingsford's specific disability it would greatly reduce his life expectancy. Moreover, their current living conditions are dire. There are 5 people living in one room and no lighting or electricity. There is no toilet. 
Kingsford's stepfather plan is to run a Corn Milling business and build a house for the family to live in. He has managed to save what little they have to purchase some land and plans to build there. The mother is a trader and also plans to utilize her skills. David and Tanya will be doing some fund raising to help the family get started on their way to self sufficiency. Project OKURASE will do what we can to support their efforts. We will keep everyone updated on their progress.