The main focus of the Economic Self-Sufficiency Objective is to support economic growth through relevant, comprehensive skills and vocational training and guide small businesses.
The Concern
Limited job training opportunities and lack of resources for business start-up have been major barriers to men and women moving forward in their lives and educating and feeding their children. Low job skills and lack of capacity to make a living also impact mental health.
Current Economic Self-Sufficiency Programs
Project OKURASE's Economic Self-Sufficiency Programs address training and support of business start-ups for both men and women with a special focus on women, who have less opportunity and greater obstacles to overcome. With the opening of the Nkabom Vocational Training Institute (NVTI) in the future, we will begin vocational skills development for two initial areas:  auto mechanics and fish farming.
NVTI will also offer business support basic training (such as planning, marketing, accounting and quality control). Together this training will help students be prepared to start their own business or enter into the workforce at another company. Our students will "learn by doing" in our village-based businesses e.g. our mechanics will be able to work in our auto mechanics shop in Okurase. These "learn by doing" business will provide some funds back to the operations of the NVTI.
We look forward to starting the NVTI slowly and building. Future vocational tracks possibilities include drum making, bakery, jewelry and bead making, and cane furniture making.  Someday we hope to be a source for NVTI formal certification.
Other Considerations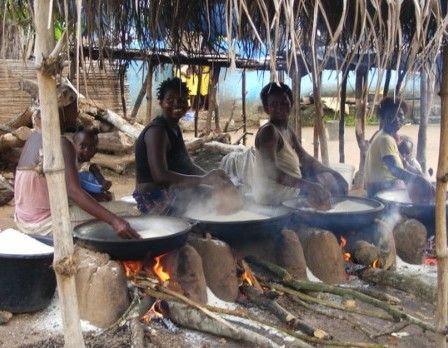 Okurase Women's Gari Cooperative
Through a small grant with African Women's Development Fund,  a group of women in Okurase started a gari (ground and roasted cassava) making cooperative. Gari is an important daily food in the lives of the people of Ghana and throughout West Africa.  The women now have a viable small business.
Block Making
Cement blocks are very common and popular in Ghana as building materials. Project OKURASE purchased equipment to train people in the village to make blocks. Our blockmaking enterprise is very important to current building efforts.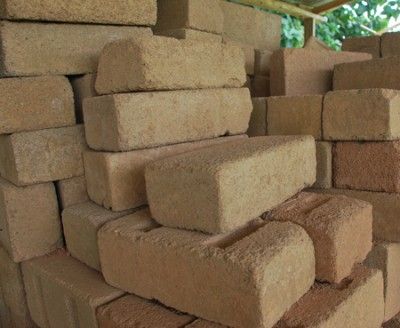 Compressed Earth Brick Making
Our first vocational program was in compressed earth brick making. Project OKURASE trained 9 men and 9 women to make compressed earth bricks. They made over 60,000 bricks (1 at a time, 1000 per day) before the machine that was on loan was taken back. Clemson Architecture Center designed 4 machines, Church of the Holy Cross on Sullivan's Island, South Carolina funded materials, and MUSC shipped them to the village. The bricks made by the village are being used to build the vocational school.  United Support of Artists for Africa has supported the brickmaking training through small grants.
How You Can Help
Explore the many ways to be involved with helping the people of Okurase. Sign up for our e-mail newsletter and join our social community so you'll always know what's happening. These small actions will help spread the word about our cause and help us make a difference.