The purpose of Project OKURASE's Sewing Centre is to provide skills training and a viable living for people interested in learning to sew.
The Concern
Sewing and tailoring is a very valued skill in Ghana. In rural areas, finding proper training in sewing and tailoring is not easy. From the onset of Project OKURASE, the village has desired a sewing centre to provide a viable living for those who would like to sew.
The Sewing Centre Program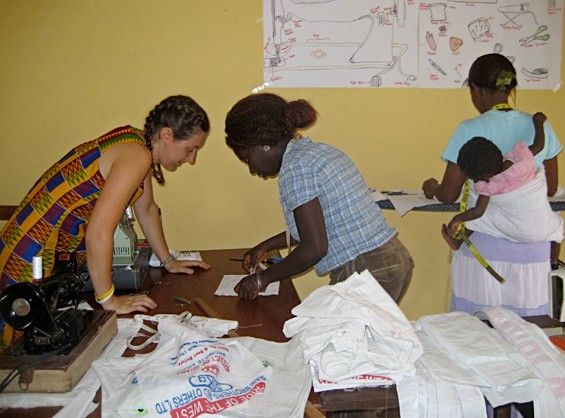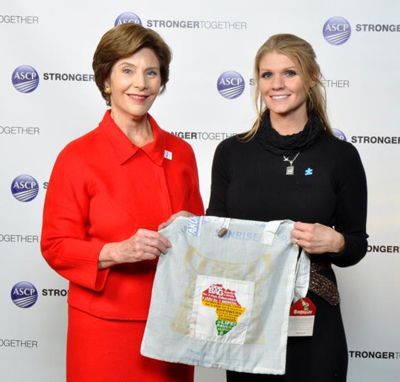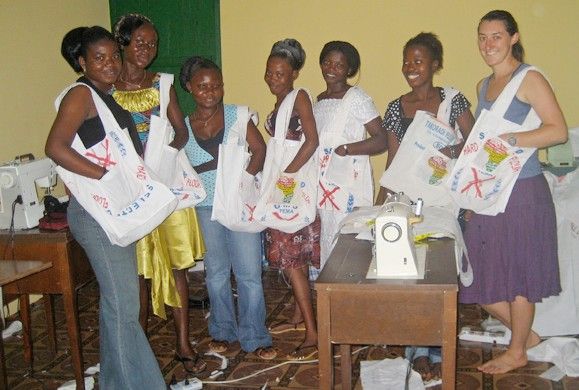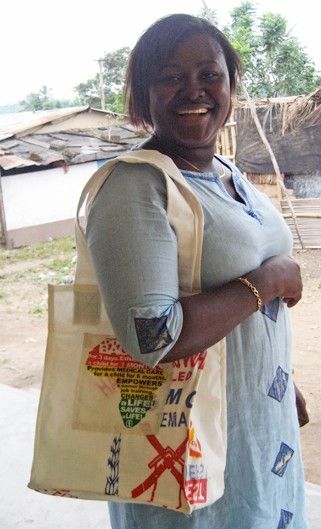 In the early days of Project OKURASE's development, we sought out resources to develop a sewing centre.  We found a great resource in a nonprofit in New Jersey called Pedals for Progress. They donated over 100 sewing machines to Project OKURASE.  All we had to do was cover the shipping costs. When the machines arrived we could start our centre. However, we needed supplies. A women's service organization called The Charleston Chapter of the Links Incorporated (Charleston LINKS: a national service organization of professional women) held a drive to supply the Okurase sewing centre with all the needles, threads, scissors and other supplies we would need to get a centre off the ground. A small sewing centre was started. The main focus has been production of various bags. The Centre has made bags to hold conference materials for conferences in London, UK, Washington, DC and Charleston, South Carolina. Our conference and training bags have made their way around the world to Europe, the U.S. and Australia. All bags made have provided a living for people affiliated with our sewing centre.
GLENN AND THE MAGIC BAGS
Glenn Main, a financial advisor in Pennsylvania saw one of our conference bags that had an adinkra symbol on it with the meaning of "finding peaceful solutions". Glenn felt that this symbol on this bag would be a goodwill gesture that could bring peace to people he knew and came across. So, Glenn bought batiked bags from our sewing centre with the finding peaceful solutions adinkra symbol on the pocket of each bag. They were made from many different colors and color combinations. Glenn has given the bags out to people all over the world and has come to call the bags, "the magic bags" because they have a positive effect on people. It also gives him a chance to tell the story of Project OKURASE. Thank you, thank you, thank you to Glenn and the magic bags!
ANDY AND THE MARKET BAGS
One of the early product from our sewing centre was the market bag. It was designed by Rhion Magee who was Creative Director at DreamWorks Animation at the time and is now Creative Director of Global Consumer Products for 20th Century Fox. Big big thanks to Rhion.
A stack of the market bags made their way to Andy Owings Music Center in Myrtle Beach, South Carolina where he is selling drums from Powerful Drums that started their lives in Okurase. Andy began giving out the market bags and making the link between his drums and the village. The market bags have given him the opportunity to tell the story of Project OKURASE. Thank you, thank you, thank you Andy!
 
Benefits
As shown above, the product from the sewing centre can impact the lives of local people in Ghana by helping with a living. But the product have the capacity to go around the world and take with them messages of culture, good will, and peace.
Way Forward
As we open the Nkabom Centre Vocational School, we will have the space to set up a proper sewing centre and expect to produce more of what we already sew and to expand our product. We also expect our sewing centre to be a part of the Nkabom Vocational Training Institute to open in 2018.
How You Can Help
You can help by purchasing our sewing centre product. Let us know what interests you.