The Nkabom Vocational Training Institute will provide an array of vocational training and and business support for Okurase, nearby villages, and beyond. 
The Concern
 As Project OKURASE was starting, a needs assessment was conducted. One of the biggest concerns expressed by village residents was the lack of job training and lack of jobs. Few people graduated high school but even those who graduated had difficulty finding a job locally. People who were not pursuing high school graduation had no program options nearby to seek training from. Lack of job training contributes to ongoing poverty for many. Interestingly, when we did our first bit of land clearing in 2008, we immediately began to receive phone calls asking for our hours and classes on offer. We know the need is great nationwide.
 
The Nkabom Vocational Training Institute Program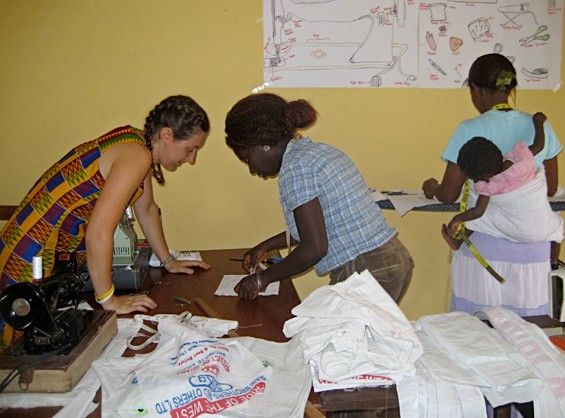 When we open The Nkabom Vocational Training Institute (NVTI) in 2018, we will begin with several lines of education and service:
Students may attend the NVTI to take individual classes for specific skills training such as textile design or drum making
Students may attend the NVTI to take academic courses to support skills to open or improve their own business. For example, students may take a course in financial record keeping or writing a business plan.
Students may take a full formal vocational curriculum in a certain skills such as auto mechanics.
In addition to the educational and skills training opportunities, we will be operating small business programs through which students can learn but that can also be a source of revenue to support the NVTI and Vocational School. For example, our sewing centre will teach students tailoring skills and goods that are produced will be sold in Okurase and around Ghana and beyond.
The initial vocational tracks will be sewing and auto mechanics. In the future, based on the needs of the village residents we may consider Building Technology, Drum and Stool Making, Textile Design, Catering, Computer Technologies, Hairdressing, Bead and Jewelry Making, and Cane Furniture Making. Importantly, business support basic classes that teach business skills and financial management of small businesses will be offered.

Benefits
The Nkabom Vocational Training Institute will benefit the village of Okurase financially from increased people visiting. It will also benefit local people with the opportunity to learn and expand their skills. The business support given will help people who participate enhance their own businesses and improve their income. 
The NVTI will not only benefit Okurase residents, but also people from nearby villages, and people throughout Ghana. They will learn skills that they can use to pull themselves out of poverty. The networking among students and teachers will contribute to social development and lifelong friendships. Who knows what might be discovered or invented at the NVTI. The future is bright.
Way Forward
We plan to open the NVTI in 2018. We will operate at the Nkabom Centre Vocational School. We will start with a small number of classes and expect to expand over time.
How You Can Help
We would love to have you involved in our vocational program. Come and help us by teaching classes or taking classes. Donate funds to help us cover equipment and teacher salaries. Share your ideas.