The main focus of our Health and Nutrition Objective is to provide access to health care and promote health and nutrition programs to reduce illnesses and early mortality.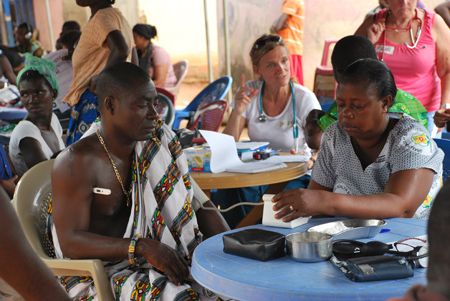 Although all of our objectives indirectly address health, the Health and Nutrition Objective directly focuses on programs that seek to improve nutrition and prevent disease processes as well as those that directly provide health care to support the health of the people of Okurase.
We continue to make progress towards our Health and Nutrition Objective by conducting our annual Village Health Outreach each summer, maintaining the Nkabom Centre Organic Garden and teaching others how to have a garden themselves and building the Okurase Medical Centre that will establish a health services infrastructure serving Okurase, neighboring villages, and other towns in the eastern region. Part of our plan is for the Okurase Medical Centre to be a training sight for medical professionals in Ghana and beyond as well. To date we have poured the foundation and pillars for the Okurase Medical Centre. See the Nkabom Centre for more information about the Medical Centre.
The Concern
Ghana's population is 26,442,000 of which 11,601,000 are children under the age of 18 and 3,677,000 are under the age of 5. Under 5 mortality rate in Ghana is 78 out of 1000 live births as of 2013. Undernutrition contributes to nearly half of all deaths in children under 5. http://data.unicef.org/nutrition/malnutrition.html.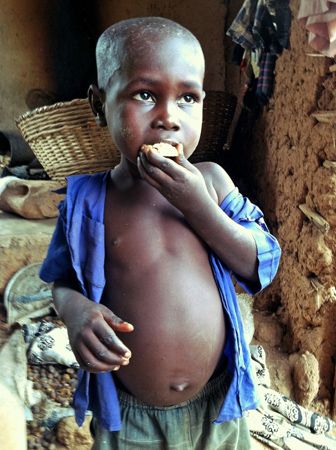 Historically, Okurase has had limited medical and health care services and little support in the way of children's nutrition. Okurase is a village of subsistence farming. With low food security and lack of nutritious foods, children and adults are experiencing malnourishment in large numbers. Coupled with the challenges of unsafe water and lack of sanitation, the stage is set for many disease processes or low capacity to fight disease, especially in young children. Also, Okurase is in a high malaria zone and a large percentage of the village residents have to manage multiple infections of malaria each year. Limited health care causes many people to die from small sicknesses that can rapidly escalate.
Current Health and Nutrition Programs
We are currently working on two main programs to address these concerns:
Other Considerations
Orphans and Vulnerable Children - There are many orphans and vulnerable children living in Okurase (OVC). Project OKURASE has great concern for their plight – nowhere to sleep, not enough food, no opportunity for education, low security. Out of concern for our OVC, Project OKURASE has implemented several interventions and we are working on plans for a Family Integration Program. Through a grant from OIC International, Project OKURASE held a feeding program called Ananse Semre. This children's time was used to teach hand hygiene and culture.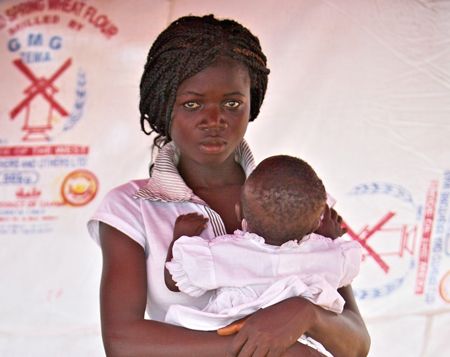 Over 100 OVC were enrolled in the National Health Insurance Scheme and the Project supported surgery for 4 children and 1 adult who were stricken with hydrocele (a water borne testicular hernia). African American women quilters in the Union Heights neighborhood in Charleston, South Carolina have sent over 50 quilts for OVC in the village and new mothers.
In the future, we hope to build 6 homes where mothers and grandmothers who are raising their own children in the village may live if they agree to fully integrate OVC into their family. The OVC would be required to attend school in the village. 
Success by Six – Success by Six is a nutrition program for young children funded by the Medical University of South Carolina Center for Global Health to Principal Investigator, Dr. Eve G. Spratt, a pediatrician and child psychiatrist. It was completed in 2014.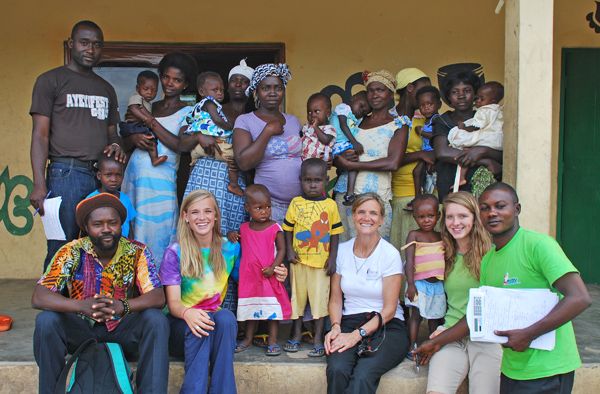 This 9-month nurse home-visitation study evaluated the impact of nutritional supplementation and health education on growth and development of young children. Twenty-five children ages 7 to 58 months and their mothers from Okurase and 3 surrounding rural villages participated. All children were identified as having malnutrition. Along with plumpy-nut and UNICEF Ready-to-Use Therapeutic Food (RUTF) supplements, efforts were made by a village helper to give families safe water, bread and funding for fruits and vegetables each week for the duration of the study. Nurses provided monthly home visits to collect measurements, provide support and education on nutrition, malaria prevention, safe water, healthy hand washing, and sanitation. Pre and post developmental assessments were completed by parent report and nurse and physician observation.
Results demonstrated the medical and developmental benefits of collaborative targeted family interventions for children with malnutrition in rural Ghana through community support, including a health team and nurse home visitation. These results were presented at the Global Health & Innovation Conference at Yale University and at the Medical University of South Carolina Center for Global Health annual conference.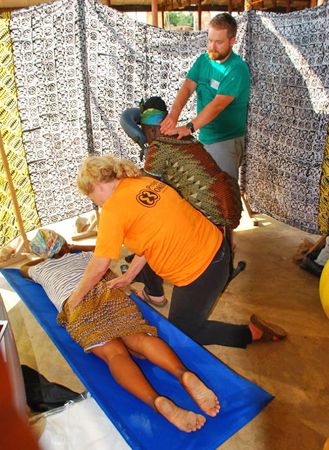 Okurase Massage Therapy - During the 2015 Village Health Outreach (VHO), we provided massage therapy services for the first time. Licensed massage therapists from South Carolina, Cathy Meryanos and Louise Tracey, traveled to Ghana to provide massage therapy to address the overwhelmingly common complaint of VHO patients – waist pains. These pains refer to neck and back pains. Headpanning is a common method of transporting goods in rural Africa. When people headpan heavy loads, there is undue pressure on the cervical and thoracic spinal column. The result can be pain. In addition to providing massage therapy for waist pain, Cathy treated a woman who had broken her arm and was frozen and unable to use her right arm and hand. One week of massage therapy unfroze her and allowed her to resume normal functioning. The right hand is important to restore because it is culturally taboo to give or receive with the left hand. Cathy wrote about her work with this client and submitted it (with the client's permission) to a case study competition with the American Massage Therapy Foundation.  She won the gold prize. The case study was published in December 2016.
In 2016 Cathy Meryanos returned to the Village Health Outreach with massage therapist, Adam Broxton. They provided massage therapy to many with waist pains and also worked with a young teen who had lost his ability to walk. Their massage techniques gave him some relief from muscular pain.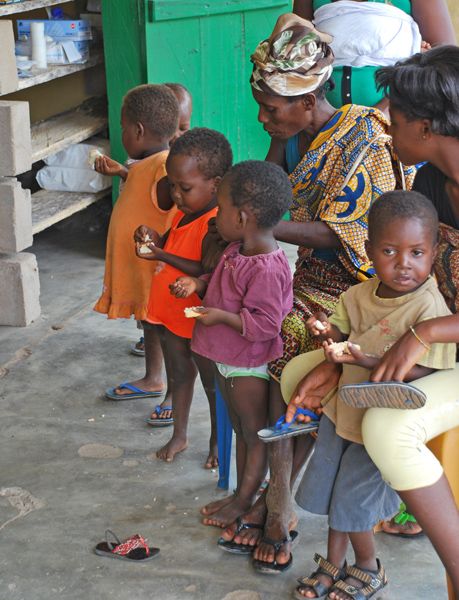 The acceptance and helpfulness of massage therapy in the village and interest in learning has encouraged us to go forward with extending our massage therapy services for future VHO's. 
How You Can Help
Explore the many ways to be involved with helping the people of Okurase. Sign up for our e-mail newsletter and join our social community so you'll always know what's happening. These small actions will help spread the word about our cause and help us make a difference.