The main focus of the Nkabom Centre Objective is to build the Nkabom Centre, an environmentally friendly community center envisioned by the people of Okurase, using local resources.
The Concern
The community desired a centre with a school for children, a vocational school, a medical centre, a recording studio to name a few heavily needed resources but there were no buildings in the community to house any of these services. The logical solution was for the community to build a collection of buildings to be a resource to the entire Upper West Akyem District and beyond. The Nkabom Centre is the vision of the village of Okurase to provide a community resource that will serve the village and many neighboring villages.  
The Nkabom Centre
We began the journey to establish the Nkabom Centre in 2008. Project OKURASE purchased the land for the Nkabom Centre from the late Barima Twum Ampofo, III who was Chief of Okurase at that time.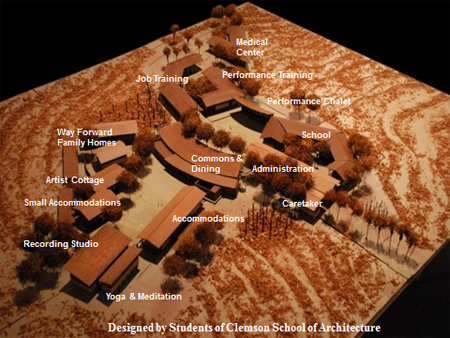 Then in January 2009, two graduate architecture students from Clemson University's Architecture Center in South Carolina, USA, Kyle Keaffaber and Lindsey Waters traveled to Ghana with Dr. Cynthia Cupit Swenson and met Samuel Yeboah. They spent 10 intensive days interviewing architects, walking the land, studying the direction of the wind, the flow of water, taking samples, investigating materials, and learning Ghanaian culture. They returned to Clemson and brought the information back to their 2 innovative professors, Robert Miller and Ray Huff and 12 other students.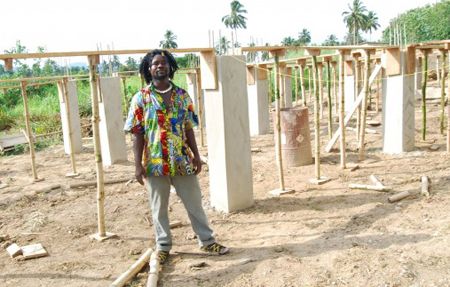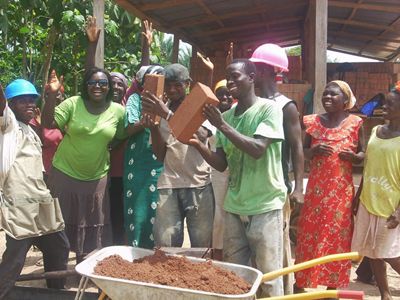 The team spent 4 intensive months researching and developing the design for the Nkabom Centre with weekly meetings attended by Dr. Swenson and presentations that were sent to the village for regular feedback and approval. The design was completed on May 4, 2009 and presented in the form of an exam given by experienced architects in South Carolina and attended by Drs. Swenson and Yeboah. The final design was approved by Okurase leadership and given to the people of Okurase. It is this design that is guiding us forward.
The Nkabom Centre design features sustainable architecture, water catchment and storage systems, placement of buildings to maximize cooling, and placement of the medical centre to minimize the flow of communicable diseases.  A special material used for construction of all buildings is compressed earth bricks. These are made from laterite – the red earth of Africa, sand, and a small amount of concrete. Men and women from the village have made bricks and block to build the buildings.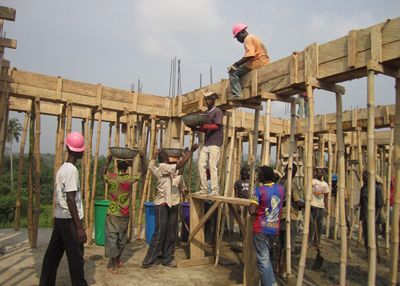 We are in the process of building the Nkabom Centre building by building as funds are available. The first building to complete will be the vocational school building. The vocational school building, which will initially house classes for the Nkabom Vocational Training Institute and two primary classrooms for the Nkabom Sundrops Montessori school are scheduled to open in 2017.

The Nkabom Centre is divided into 2 parts: A more public part for performance, work, and social interaction and a more private part for living and accommodations. Throughout the Centre grounds will be gardens, pineapple trees, mango trees, orange trees, bathrooms, and a playground. Here is a list of all the buildings in the design: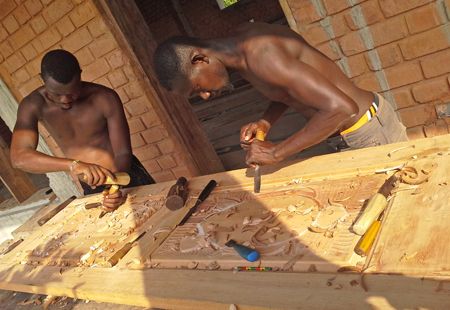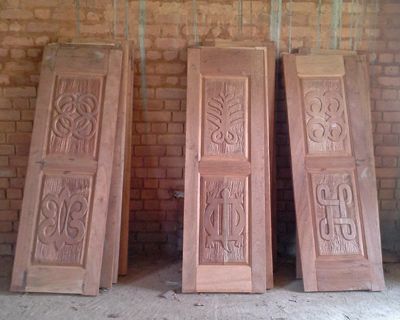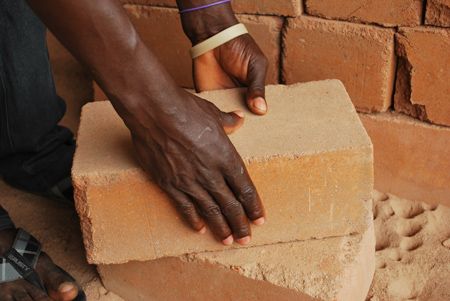 Administration Building - computer lab and seminar rooms for community health education
Auditorium - attached to Adminstration, used for events
Nursery through Senior High School Building- 2-story building, based on a concept of village-based education 
Performance Stage - a stage with a courtyard in front for social interaction and events
Performance Training Building - artists will teach traditional dance, drumming, singing and playing other instruments
Vocational School Building - home to the Nkabom Vocational Training Institute where students will receive vocational and skills training
Medical Centre Building - separated from the training and schooling for privacy to support visitors from other villages
Kitchen and Dining Area/Recreation Centre Building - a large building for eating and activities
Large Accommodation Building - housing for people from all over the world who come to Okurase for training, internships and to help. 
Djole Cottage - housing, named after the children from North Charleston, South Carolina who visited in 2006
The Artist's Cottage - housing for artists and those who come to Okurase to teach.
Recording Studio - for artists from all over Ghana and other countries to interact, learn and record their music
The Way Forward Family Homes - homes for families willing to accept orphan children into there home
Many of the buildings will be able to generate revenue through accommodation, training, and rental fees as well as funds generated for items made at the Nkabom Vocational Training Institute. 
Current Nkabom Centre Programs
We are currently working on five programs for the Nkabom Centre Objective:
Key Helpers
In 2010, One of the Clemson architecture graduate students, Chris Moore, completed his degree and moved to Okurase with his wife, Evan Moore as 8 week volunteers.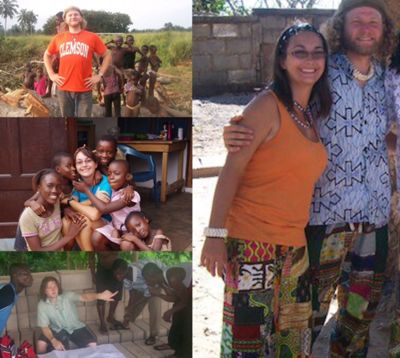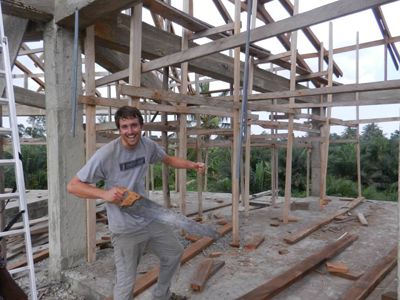 His purpose was to help Project OKURASE make significant movement on building the vocational school. Great progress was made with Chris on site and he has continued to provide pro bono consultation as the building has progressed. Evan, a dance major, enjoyed working with the village children teaching various forms of dance and a specialty was dances and songs from the Broadway play, The Lion King.

Another architecture graduate, Jake Schneck moved to Okurase as a long-term volunteer and helped us prepare and develop the foundation for the medical centre. He also advised on the school and lended physical labor to all jobs. Due to Jake's presence, we have a foundation and pillars for the medical centre.
 
How You Can Help
Donate to our building fund, come build with us, sponsor a building.....explore the many ways to be involved with helping the people of Okurase. Sign up for our e-mail newsletter and join our social community so you'll always know what's happening. These small actions will help spread the word about our cause and help us make a difference.